Jane Iredale - Corrective Colors

Corrective Colors is een multifunctioneel camouflagepalet dat blauwe plekken en/of hyperpigmentatie camoufleert. Deze kit bevat 4 tinten die alle mogelijke verkleuringen dekken of neutraliseren.
Corrective Colors
Omschrijving
Vier zachte kleuren die corrigeren en onregelmatigheden en onvolmaaktheden wegwerken.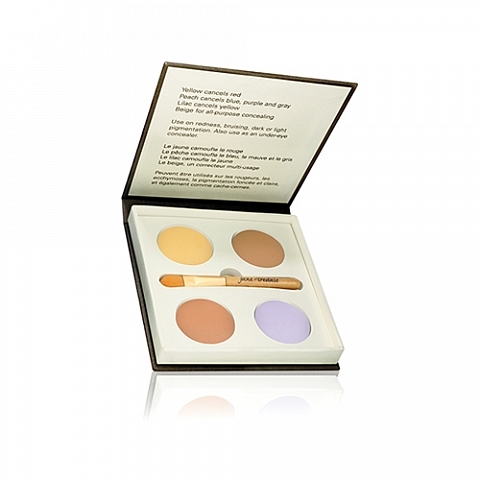 Effent de huidskleur en zorgt voor een onberispelijke afwerking.
Geel heft rode vlekjes op, perzik heft blauwe op en lila de gele.
Beige is een concealerkleur die neutraliseert.
Geeft een helder, licht resultaat.
Inclusief aanbrengspatel.
Ingrediënten
Isopropyl jojobate, avocado-olie, zonnebloemzaadolie, olie uit ricinuszaad, bijenwas, silica, carnaubawas, ozokeriet, jasmijnextract, extract van groene theebladeren, extract van dennebast, bisabolol, druivenpitextract, ascorbylpalmitaat. Kan titaandioxide, mica, ijzeroxiden en ultramarines bevatten.
Tips
Geel heft rode vlekjes op; perzik heft blauw, purper en grijs op, lila heft geel op.
Beige is een concealerkleur die neutraliseert.
Toepassing
Corrective Colors met onze Camouflage Brush aanbrengen en vervolgens PurePressed® Base of Amazing Base® op de gecamoufleerde delen met de Flocked Sponge deppen. Indien er nog oneffenheden zichtbaar zijn, opnieuw een laagje concealer aanbrengen en afwerken met mineraal poeder. Indien nodig, deze bewerking meermaals herhalen totdat de zone(s) voldoende gecamoufleerd zijn.